AAU Scholastic Disney Duals Champions
2004, 2005, 2006, 2007, 2011, 2012


AAU Junior Olympic Champions
2005, 2006, 2007, 2010, 2011
Updated February 23, 2015
---

---
2014 AAU Scholastic Disney Duals National Champions
Developmental Division
MAWA Red 11-0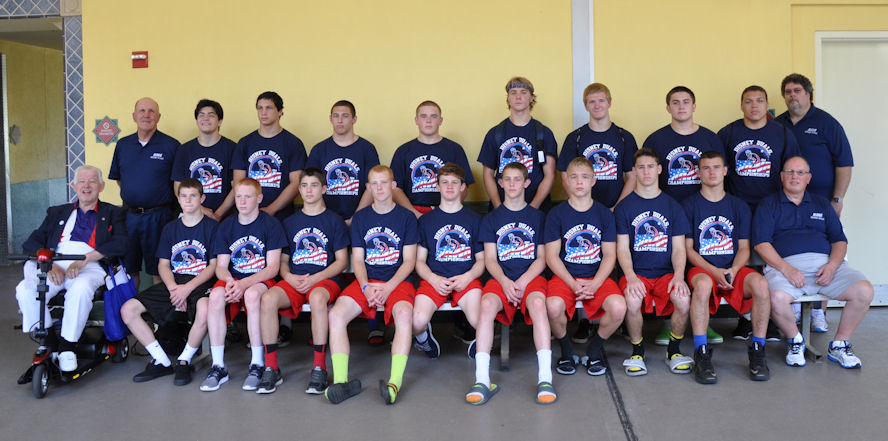 Front Row (L to R) Mike Smith, MAWA President, Newport, PA; 106lbs-Matt Parker, Pennridge HS; 113lbs-Jacob Wasser, Palisades HS; 113lbs-R.J. Driscoll, Lake Lehman HS; 120lbs-Matt Sparks, National Park, NJ; 126lbs-Bryce Reddington, Methacton HS; 126lbs-Josh Stillings, Pennridge HS; 132lbs-Dylan Chatterton, Central York HS; 138lbs-Dylan Henry, Methacton HS; 145lbs-Jimmy Saylor, Easton HS; Norm Palovcsik, Head Coach, State College, PA.
Back Row (L to R) Ed Ladamus, Assistant Coach, Dallas, PA; 152lbs-Cade Moisey, Northampton HS; 160lbs-Kyle Gentile, Pennridge HS; 170lbs-Derek Dragon, Lake Lehman HS; 182lbs-Austin Holmstrom, Woodbury Heights, NJ; 182lbs-AJ Cutrufello, Episcopal Academy; 195lbs-Gage Heller, Milton HS, 220lbs-Michael Catalano, Easton HS; 285lbs-Saul Wilkins, IV, Wilkes-Barre GAR HS; Wade Winemiller, Administrative Assistant, Shrewsbury, PA.

Complete Results


---
2014 AAU Scholastic Disney Duals 4th Place
District/All Star Division
MAWA Blue 9-2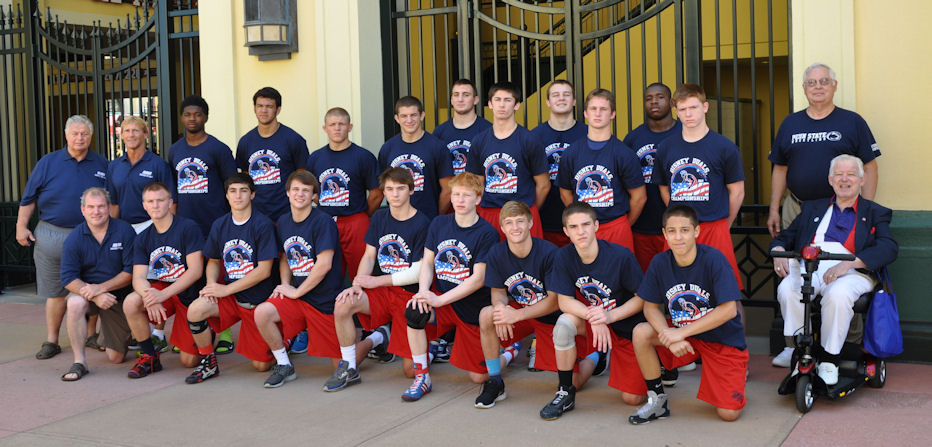 Front Row (R to L) Mike Smith, MAWA President, Newport, PA; 106lbs-Dan Moran, Northampton HS; 113lbs-Jake Riegel, Bethlehem Catholic HS; 120lbs-Scott Parker, Pennridge HS; 126lbs-Ryan Pomrinca, Annandale, NJ; 126lbs-Todd Lane, Southern Columbia HS; 132lbs-Kent Lane, Southern Columbia HS; 138lbs-Evan Fidelibus, Easton HS; 145lbs-Tyler Shafer, Hanover HS, Paul Edwards, Head Coach, Quakertown, PA.
Middle Row (R to L) 145lbs-Billy Barnes, Williamson HS; 145lbs-Willie Davis, Bridgeville, DE; 152lbs-Michael Comunale, Pius X HS; 152lbs-Paul Dunn, Bethel Park HS; 160lbs-Bobby Fehr, Northampton HS; 182lbs-Kellan Stout, Mt. Lebanon HS; 170lbs-Rushon Lusane, Norristown, PA; Jack Davis, Assistant Coach, Harveys Lake, PA; Tom Weikel, Administrative Assistant, Hanover, PA.
Back Row (R to L) Don Book, Assistant Coach, Sugarloaf, PA; 285lbs-Tracey Green, Methacton HS; 220lbs-Andrew Dunn, Bethlehem Catholic HS, 195lbs-Garrett Wesneski, Canton HS.

Complete Results


---

2015 Scholastic Schedule (updated 02/23/15) This schedule is subject to change!
---

The following 2015 Middle Atlantic Wrestling Association Preliminary District Tournament Entry Forms are now available:
North: North Schuylkill HS, Mifflinburg, Tunkhannock HS, Middletown HS, Watkins Glen HS, Athens HS, Wilkes University, Warrior Run MS, Johnson City MS,
South: Fauquier HS, Nansemond River HS, Cranberry Plaza, River Hill HS, Toms River HS East, Washington Township HS, Annapolis Area Christian School, Northern Burlington HS, AI DuPont HS,
East: Windham HS, Upper Merion MS, Northampton HS, Great Valley HS, Quakertown HS, Fair Lawn HS,
West: Susquehannock HS, North Allegheny Int HS, Juniata HS, Conestoga Valley HS, East Pennsboro HS, Chestnut Ridge HS, Capital HS, Lock Haven U., Waynesboro HS,
---
| | |
| --- | --- |
| | About Us |
| | 2015 Scholastic Tournaments |
| | Results |
| | Membership |
| | Links |
---
All Forms on this web page are available for download in Adobe PDF format. If you do not already have the latest version of Adobe Reader you may download it here. It's free!

---
---
Email your questions about any MAWA related information to Michael L. Smith, MAWA President
Email your questions about this web page to Wade Winemiller, Web Designer
Copyright © 2014 - 2015 Middle Atlantic Wrestling Association. All rights reserved.

Best viewed using Microsoft Internet Explorer (1024 x 768)


---